L'Article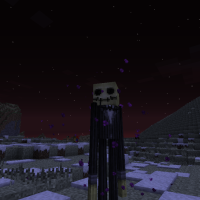 [Pack de Texture – 1.4.7] The Asphyxious (16x)
Informations
Le Pack de texture : The Asphyxious
La résolution : 16x
L'auteur : Asphyxious
Nouvelle Version du Pack de Texture Disponible
Nouvelle Version de « The Asphyxious CustomPack »
Présentation
Bonsoir les amis, si je viens vous parler ce n'est pas pour vous présenter un texture pack coloré et chatoyant, digne des kikoolols ou de nos amis les sudistes. Non, je viens vous parler d'un texture pack qui vous fera salir vos petites culottes au moindre bruit de porte ou de coffre refermé (rpz BeastModeIII). Un texture pack sombre digne des plus grands films de suspense ou d'horreur. The Asphyxious. La suite en image. .
Screens :
Liens de Téléchargement



Méthode d'installation
Etape 1 : Téléchargez le pack de texture ainsi que Mc Patcher.
Etape 2 : Lancez Mc Patcher, et cliquez sur Patch.
Etape 3 : Allez ensuite dans Démarrer puis Exécuter (Raccourci clavier: Touche Windows + R), tapez %appdata% et cliquez sur OK.
Etape 4 : Cliquez ensuite sur .Minecraft et déplacez le fichier zip de votre texture pack dans le dossier « texturepacks ».
Etape 5 : Lancez Minecraft, allez dans « Mods and Texture Packs » et sélectionnez votre pack de texture.
Les Mots Clefs les plus recherchés :
pack de texture minecraft 1 4 6 (1185) - pack de texture 1 4 6 (655) - pack texture 1 4 6 (88) - telecharger texture pack minecraft 1 4 7 (42) - telecharger pack de texture minecraft 1 4 6 (30) - pack textures 1 4 7 (21) - télécharger pack de texture minecraft 1 4 7 (18) - packs de texture 1 4 7 (16) - packs de textures 1 4 7 (15) - minecraft pack de texture horreur (14) - pack de texture horreur (13) - nouveau pack de texture minecraft 1 4 2 (13) - textures pack 1 4 6 (13) - texture pack 16x 1 4 4 (12) - telecharger texture pack minecraft 1 4 6 (11) -
Noter l'article
Les articles tendance du moment
Les commentaires